OBX Living Series

N.C. Cooperative Extension transforms science into everyday solutions for North Carolinians through programs and partnerships focused on horticulture, 4-H youth development, and family & consumer sciences. The OBX Living Series, a program of Dare County N.C. Cooperative Extension, is designed for youth and adults who desire to engage in leadership development, gardening, and food preparation. From composting to canning, the OBX Living Series connects families with nature, builds healthy individuals, and teaches life skills in a practical and fun way.
Download the full OBX Living Series here.
Review COVID-19 Update information here. 

---
Master Gardener Programs-
Learn more about the Dare County horticulture and gardening workshops by visiting the Upcoming Extension Master Gardener Programs & Events Page. Topics include: Herbs, Orchids, Native Plants, Pest Management, Plants that Survive & Thrive on the Outer Banks, and so much more!
---
4-H Summer Fun Activities-
The mission of 4-H Summer Fun is to provide a safe, affordable, enriching environment where youth can learn and develop new skills and have fun while doing it! Students participate in field trips and other hands-on learning opportunities targeting agriculture, citizenship, healthy living, and STEM (science, technology, engineering, & math). Visit the 2020 4-H Summer Fun Program to learn more.
---
Family & Consumer Science Classes-
Dare County N.C. Cooperative Extension offers a wealth of educational programs that address public health issues, improve economic well-being, and help people make healthier, better-informed decisions. Programs include local foods, food safety, and food preservation. Read more about all the Upcoming Family & Consumer Science Programs taking place in Dare County this year.
---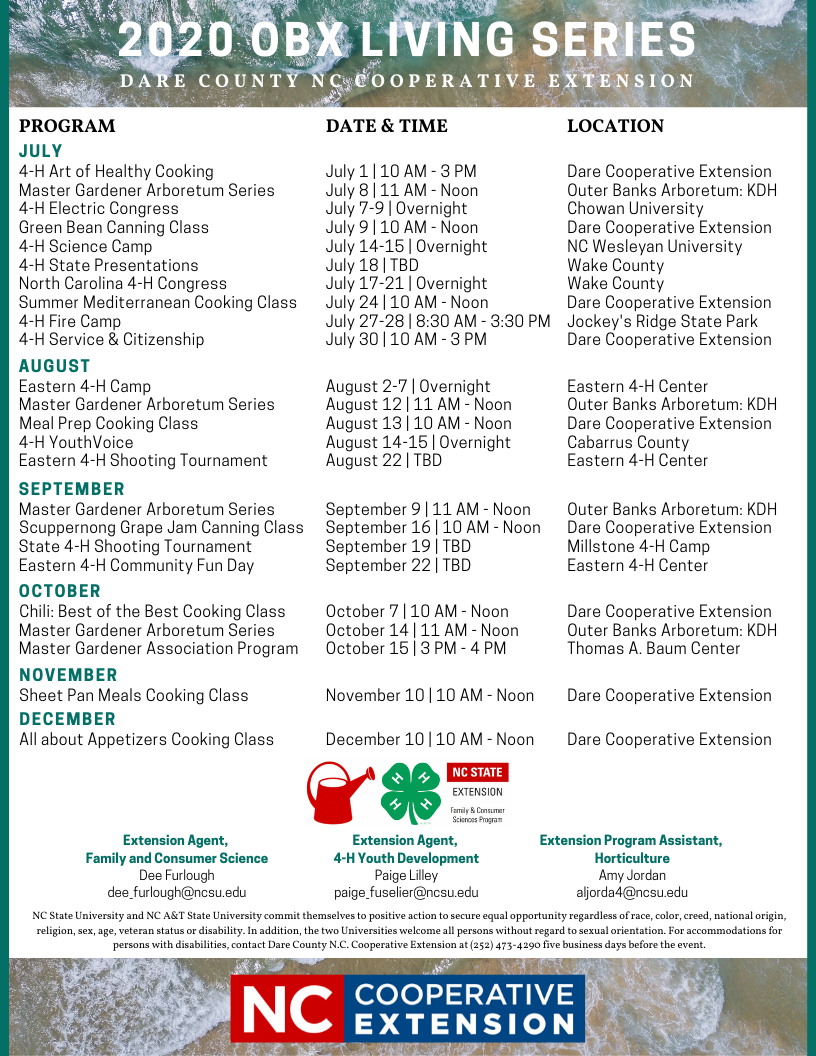 Dare County N.C. Cooperative Extension
517 Budleigh Street, PO Box 968
Manteo, NC 27954

NC State University and NC A&T State University commit themselves to positive action to secure equal opportunity regardless of race, color, creed, national origin, religion, sex, age, veteran status or disability. In addition, the two Universities welcome all persons without regard to sexual orientation. For accommodations for persons with disabilities, contact Dare County N.C. Cooperative Extension at (252) 473-4290 five business days before the event.