Meatless Monday – or Any Other Day of the Week!
Find this article at:
go.ncsu.edu/readext?752168
We all know how good beans, vegetables, and spices are for us. And all these are or can be delicious chili ingredients. For those who either don't eat meat or who are trying to cut back, these ingredients can come together to form a most delicious chili – without the meat!
I don't know about you, but it's hard for me to make a small batch of chili. The good thing is, chili tastes even better the next day! It can be served as made, put on a baked potato, served over pasta or even frozen in portion sizes for other meals. So make a big pot, enjoy the taste, and know you're being good to your body by giving it extra fiber and nutrients!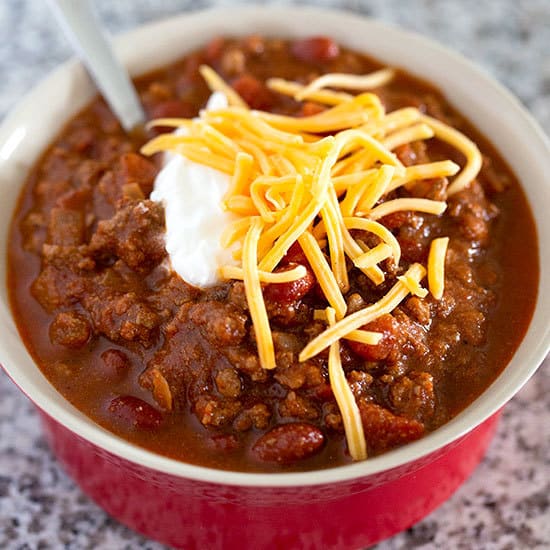 The Best Vegetarian Chili in the World
Directions
Instructions Checklist
Heat the olive oil in a large pot over medium heat. Stir in the onion, and season with bay leaves, cumin, oregano, and salt. Cook and stir until onion is tender, then mix in the celery, green bell peppers, jalapeno peppers, garlic, and green chile peppers. When vegetables are heated through, mix in the vegetarian burger crumbles. Reduce heat to low, cover pot, and simmer 5 minutes.
Mix the tomatoes into the pot. Season chili with chili powder and pepper. Stir in the kidney beans, garbanzo beans, and black beans. Bring to a boil, reduce heat to low, and simmer 45 minutes. Stir in the corn, and continue cooking 5 minutes before serving.
Nutrition Facts
Per Serving:
391 calories; protein 28.2g 56% DV; carbohydrates 58.7g 19% DV; fat 7.9g 12% DV; cholesterol 0mg; sodium 2571.2mg 103% DV.