Treats for Your Sweet That Help Your Heart Beat!
Find this article at:
go.ncsu.edu/readext?773167
Valentine's Day is right around the corner, and what is one gift that most everyone looks forward to? That's right – CHOCOLATES!
How ironic that February is Heart Month and we celebrate with sugary goodies while encouraging folks to be more heart healthy. While dark chocolate can be good for us in moderation, it's a good idea to watch our sugar intake. As you can see from Med Instead of Meds, sugar is making us sick.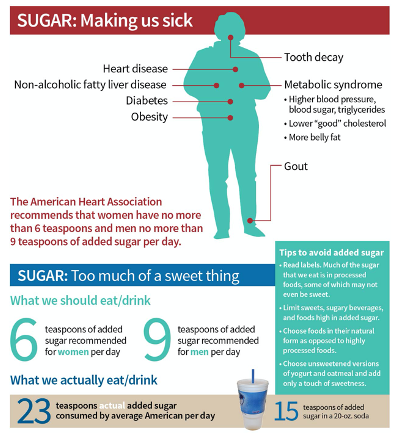 Rethink Your Sweets
Added sugar is sugar added to processed or prepared foods.
Now that we're going to think twice about how much sugar we're going to give our loves, what can we do instead? How about a homemade treat that's made with lots of love and less sugar!
Greek Yogurt Chocolate Mousse
A light and healthy chocolate mousse recipe made with Greek yogurt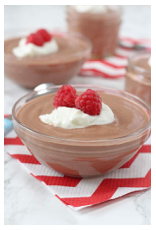 INGREDIENTS
3/4 cup milk
3 1/2 oz dark chocolate
2 cups Greek yogurt
1 tbsp honey or maple syrup
1/2 tsp vanilla extract
INSTRUCTIONS
Pour the milk into a saucepan and add the chocolate, either grated or very finely chopped or shaved. Gently heat the milk until the chocolate melts, being careful not to let it boil. Once the chocolate and milk have fully combined, add the honey and vanilla extract and mix well.
Spoon the Greek yogurt into a large bowl and pour the chocolate mixture on top. Mix together well before transferring to individual bowls, ramekins or glasses.
Chill in the fridge for 2 hours. Serve with a small spoonful of Greek yogurt and some fresh raspberries.
The chocolate mousse will keep in the fridge for 2 days.
Nutrition Facts:
Serves 4
Serving Size: 1 Serving
Calories Per Serving: 328
23%Total Fat 18.2g                                                  32% Protein 15.8g
9%Total Carbohydrate 25.4g                              16% Calcium 210.1mg
7%Dietary Fiber 2g
Sugars 21.6g